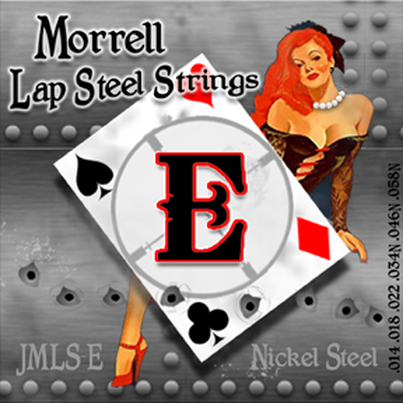 Morrell
Morrell JMLS-E Premium 6-String Lap Steel Guitar Strings for E-Tuning 14-58
JMLS-E Lap Steel E-Tuning
The JMLS-E Lap Steel String set is for a 6-string lap steel and is intended for an E Tuning. All Morrell strings are manufactured by the makers of most major brands of guitar strings sold worldwide. The only difference between the big label brand strings and Morrell strings is the money you save!
.014, .018, .022P, .034N, .046N, .058N
This string set is packaged for E tunings. Below are are optional tunings depending on preference and style of play. Alternate tunings may require substitution of string gauges.
Tunings:
 Low to high or 6th through 1st:
E:
 E B E G# B E
A6:
 C# E F# A C# E
C6/Am7:
 C E G A C E
E13:
 E G# B C# E G#
E7:
 B D E G# B E
---
Share this Product
---
More from this collection