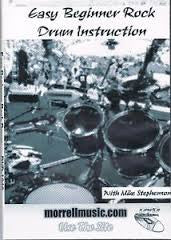 Morrell
Easy Beginner Rock Drum Instruction DVD: Learn Basic Rock Drum Patterns
The Easy Beginner Rock Drum Instruction DVD takes the student through a series of different drum patterns often used in rock music. Within the series of patterns being taught, the student will learn the fundamentals of drumming.
Along the way, the student will learn to:
Use proper drumming technique
Be balance and in control within the pattern
Coordinate between patterns
Reading Music
AND MUCH MORE!!!!
Each pattern taught in this series is designed to get you playing drums quickly and correctly!
At the end of this DVD, the student will have a strong foundation of rock drum patterns that can be built on.
---
Share this Product
---
More from this collection